I'm pretty excited for my cousin's wedding!
First time in Arizona! I'm going to blow off my hand with fireworks >:]
Also, there's this lawsuit waiting to happen right here, aptly named, "Heart Attack Grill."
If you've ever watched The Boondocks, Grandpa might have called these burgers the Martin Luther Vandross. A burger that'll sing you to heaven.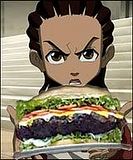 I've got an awesome schedule ahead of me :]
Arizona next week, 21st Birthday Blackout Bash the week after, Vegas Nov. 13th for MuggleMaster's birthday, and then Harry Potter and the Mufuckin' Deathly Ass Hallows* Pt.1 six days later; it's going the fuck down! 
(*Please pardon my French, this is what the Boondocks and sleep deprivation does to me :])
The only problem is anticipation; I don't know if I'll be able to handle the wait. Perception can slow time to a standstill, making mere seconds eternity, and the moment itself into a rushed frenzied blurr of dizzying satisfaction. 
Wouldn't a Pensieve be fucking awesome? To be able to relive your memories, or those of any willing participant, mannnn :] 21st Birthdays might always be remembered! 
But all wishful thinking aside, I cannot wait for these next two promising months.